PIZZA HARBOR
"Old School" thin crust pizza, just the way you remember!
Pizza Harbor is the "
Locals Choice

"

year after year
Dine In
Casual, relaxed family dining since 1979! Pizza Harbor is centrally located in Downtown Seaside, making it the perfect place to stop and have a sit-down meal after a day at the beach or shopping.
Take Out
Pick up dinner on the way home! After a long day at work or chauffeuring kids around all day, dinner can be as easy as a phone call away. Call us and pick up dinner for the family. Planning a party? Call and order pizza!
Delivery
Pizza Harbor offers FREE friendly local delivery. Watching a movie at home or your hotel room and get a craving for some delicious pizza? Call now!!
Our Mission
At Pizza Harbor, we strive daily to provide the same quality you have come to expect since '79, whether it's our famous pizza, baked sandwiches, or salads. We offer cold soft drinks for the kids. Domestic beers, Premium beers, and wine for adults over 21. A gluten-free pizza crust* option is available topped with toppings of your choice. All meats and cheese are gluten-free. Milk allergy? No problem, order a pizza without cheese.
A sponsor for the Pacific Basketball League, Pizza Harbor is the place to stop after a game for visiting teams, local families, and team members. A large party room is available for teams and family members. Be sure to make a reservation for your team or group to be guaranteed after-game celebrations.
*Pizza Harbor is not a certified gluten-free restaurant. However, we know how important it is to make your pizza as free from gluten as possible and will take every precaution to prevent your pizza from gluten contamination.
Reserve a Room
Pizzas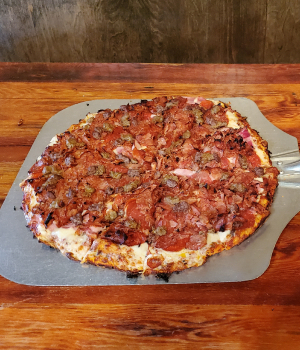 All Meat Combo
Come take a bite of our savory All Meat Combo pizza, topped with loads of pepperoni, hickory smoked ham, Italian sausage, linguica, & beef.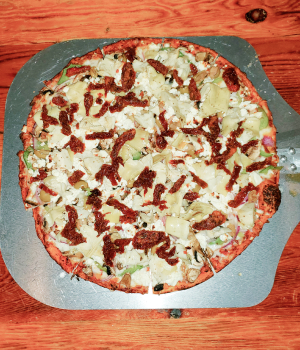 Feta Pizza California Style
Cheese it up with our four-cheese blended California Style pizza, complemented with a meatless medley of artichokes, sun-dried tomatoes, walnuts, onions, green peppers, mushrooms, and green olives, completed with sprinkled feta cheese.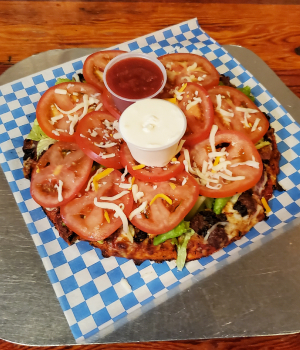 Taco Pizza
Come celebrate Taco Day everyday with our famous Taco Pizza! Available in seasoned ground beef or chicken and served with sour cream and salsa.
View Our Full Menu